2021-03-26
C-LINK and NSW Collaborate with Multi-Lateral Business Opportunities.
News Release
2021/3/26
C-LINK TECHNOLOGY INC.
C-LINK and NSW Collaborate with Multi-Lateral Business Opportunities.
C-LINK TECHNOLOGY INC(C-LINK) announce to sign a MOU(MOU: Memorandum Of Understanding) in the field of AI image processing technology with Nippon Systemware Co., Ltd.(NSW), a Japanese IT solution provider, for the smart city of both companies in the field of AI technology Solution exchanges and cooperation.
C-LINK and NSW, both are large-scale system integrators in Taiwan and Japan, adopting AI technology to apply to various industries. In 2018, C-LINK and NSW began to exchange AI technology and cooperate with PoC(Proof of Concept) testing.
This time, C-LINK and NSW will formally reach an agreement to use AI image processing technology and apply real-time detection and tracking applications for vehicles and pedestrians flows to provide smart city solutions.
■ Cooperative Contents
1. Using roadside cameras and UAV with automatic AI image processing technology to analyze intersection traffic volume survey products and traffic risk assessments, to provide mutual cooperation for smart city solutions.
2. Mutual technical exchange required for cooperation.
3. C-LINK and NSW will plan to conduct POC testing in Japan and expand market in Japan, and consider expanding to other Asian markets in the future.
■About C-LINK (C-LINK TECHNOLOGY INC.)
C-LINK has been concentrating in the market of Telecommunication and Surveillance in Taiwan since 1996. As a successful solution provider and system integrator, we constantly provide solutions with excellent quality, service and innovation adding values for our customers, whose backgrounds include commercial, security industry, government. We are proud of stepping into the field of AI (Artificial Intelligence), and won an award in the Smart City Startup Competition (2020 Hack IDB x NVIDIA), hosted by IDB, Ministry of Economic Affairs, R.O.C., and were granted a registration certificate as a Technological Service Organization of AI industry (in the field of Smart Traffic Audit). For years, C-LINK has deeply won business supports from our respectable customers and partners. C-LINK is a dependable company and will keep working hard and smart to fulfill customer demands in future.
More Information please check: https://www.c-link.com.tw/
■About NSW(Nippon Systemware Co., Ltd.)
Established in 1966 in Tokyo, Nippon Systemware Co., Ltd. (NSW) is an independent system integrator focused on:
system construction in various industrial fields such as manufacturing/logistics/public sector

IT infrastructure design/maintenance

self-owned data centers to provide cloud services

embedded software development in the field of vehicle/communication/device

semiconductor design
With its complete vertical development/integration strength and diversified industrial experiences, it has devoted itself to the development of IoT and AI, and provided customers with DX (digital transformation) solutions. Its annual turnover is 38.2 billion yen (term of March 2020), a listed company with more than 2,200 employees.
NSW has been engaged in the semiconductor design business for more than 40 years and is one of the few system integrators with semiconductor design capabilities. With a semiconductor design team of up to 500 people, it provides semiconductor manufacturers and IT brand companies LSI development services, including specification formulation to IC design, testing, and verification. It's particularly familiar with image processing and communication chips. NSW established an office in Taiwan in 2018, hoping to expand cooperation with Taiwan's semiconductor industry and jointly develop the global market.
More Information please check: https://www.nsw.co.jp/
■Sign MOU process
C-LINK sign MOU in Taiwan and NSW sign in Japan on 2021/3/25 as below images.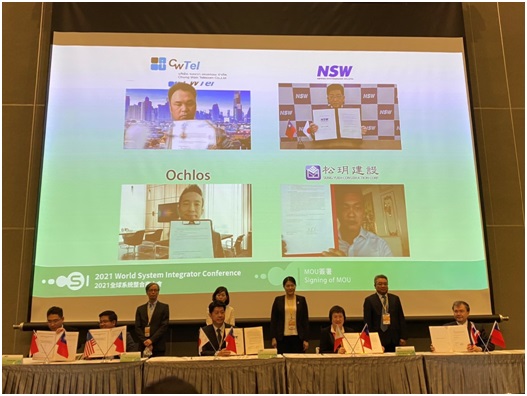 ■NSW News Release
The NSW news release can be checked on URL as below.
https://www.nsw.co.jp/topics/news_detail.html?eid=652
■Sales Contact Window ■PR/Marketing Contact Windows
C-LINK TECHNOLOGY INC. C-LINK TECHNOLOGY INC.
AI Innovation Center Administrative PR/Market
Sales Contact: Sam Wen Administrative Contact:Serena Lee
TEL:+886-2-82262008 EXT 1281 TEL:+886-2-82262008 EXT 1331
E-mail:Sam@c-link.com.tw E-mail:Serena.Lee@c-link.com.tw